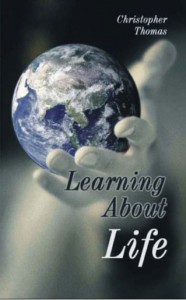 Authored by Prof. Dr. Christopher Thomas PhD
English
ISBN : 81 7662 298 2 – Hard copy Indian Edition
ISBN : 9781476155234 – E-Book International Edition
Foreword by: Ian Harrison, Wales – U.K.
Download E-Book Indian Edition
Download E-Book International Edition
WHAT THE AUTHOR SAYS
The Author says that life is like a piano; you should be careful how you play it. This is a book that offers you grains of wisdom, reminds you about the do's and don'ts and tell you to mind your p's and q's and assures you that you can be on the road to success in life if you mind some important aspects of life.
The book "Learning About Life" takes you for a journey to discovery of a truly promising and worthy life although en route on the journey you may find yourself running into stumbling blocks like greed, hatred, ignorance, etc but armed with courage, discipline, honesty, hope and dreams, you surely end your journey successfully. It also reminds you when and where you have to keep your seat belts on because of unseen bumps around the corners.
The Author points out that as long as you have a life here on this earth to live, first of all, Have a Clear Mind and Have the Urge to Win in Life". He lists out and explicate on seventy-four most usual aspects helping us to achieve a Rich and Successful Life as also some fourteen common factors resulting to Failure in Life, in addition to explaining on Major Driving Forces of human life such as aspirations, instincts and how they are correlated to your Personal Approaches and Choices. You have all necessary ingredients enumerated in this book to tune up your life for the better. He ends up the book with a chapter on the New World Order.
TO LEARN METICULOUSLY MUCH MORE, READ "LEARNING ABOUT LIFE" AUTHORED BY CHRISTOPHER THOMAS.
SYNOPSIS
Scientific and Technological developments proliferate to keep us informed of why things act and react as they do, but life is not so. May be that is because of the complexity of the subjects and disparate beliefs that are around in the world we call our home. This should be yet another reason for so many conflicts all over the world. Or, it is just possible that our concepts are something like; they are wrong, ours must prevail.
Life is an indefinite journey where right knowledge and vigilance play crucial parts at every step to overcome the many hurdles and uphill tasks we face every day. Dr. Christopher Thomas, author of this book Learning About Life impudently encounters these factors, analyses each major constituent critically and fish out those solutions that would definitely turn our lives successful.
Learning About Life is fascinating in-depth look into why we live in this world, what we are, and how we should be. It is structured in a way that it is easy to read with continuity, easy to refer to, and most of all, easy to comprehend and apply in our ordinary lives. The author says; one has to live this life successfully and win it in order to be a fine example for our future generations, for progressive continuation of entire humanity.
Dr. Christopher Thomas begins with a strong emphasis that our life here is to live fully, not to squander or waste. One has to live a more satisfying, more enjoyable life on the face of this world, here and now and not to wait until death. To accomplish such sort of a life, he gives certain tips on how to have a clear mind, on how to have an urge to win in life and on how to perfect in what we do, and so on. Our life is in our hands, we can steer it anyway we wish, either make it or break it.
The author deals with the topic of success and failure on several counts. With a positive attitude in life, one should be able to craft stepping stones out of stumbling blocks and corner stones out of the discarded. We should remember; the ladder of success is always crowded at the bottom and not at the top. So, start applying your energy and wisdom right at the foot of the ladder itself, he says.
Success also means having a sense of contentment. Success does not depend only on how many things we have performed to perfection but also on how many things we have improved up on when we had the opportunity. Again, success in life is not material advancement alone, but also the degree to which one enjoys peace, health and love. Success is counted not only in what you have achieved for yourself but also in what you have done for others. Success certainly requires a lot of patience and perseverance.
A life of several failures and defeats is meaningful to the individual's growth as the experience of a life of successes and victories. The author concludes the chapter giving emphasis on one's duty to do good (dharma) not expecting anything in return, with a beautiful quotation from Bhagavad-Gita (Text 11: 47 & 48)
"Thou hast right to action only, to the fruit of action, thou hast no manner of right at all; be not motivated by the fruits of action, neither to inaction sell thy soul, but put attachment far from thee and do the deeds with a mind awaiting success and failure with an equal heart"
The elaborate chapter on the Richness of Life indicates that life is rich when it is purposeful and meaningful in all aspects. This condition is achieved through several means such as the quality of one's behavior, habits and mannerisms, devotion to God, humility, charity, contentment, compassion, gratitude, modesty, sincerity, diplomacy and effective silence. The author deals with each of these qualities individually and elaborately. Then he proceeds to explain how to achieve this richness in life. He has given prime importance to health and character. He also deals with psychological aspects like attitudes, adaptability, self-assessment, self-confidence, self-esteem, self-improvement and self-satisfaction.
Another common factor is the need to cultivate sense of humor in our every day life. He deals in length regarding the choice of career and how to carry it about. The various challenges that one may encounter in life and the quantum of his achievements on confronting these challenges which depends on one's tastes for perfection, persistence and utilizing all the opportunities that one comes across in life, by defeating universal emotions such as agony and anger, bondage, kinds of crisis and resultant depression in life, negative emotions like falsehood, greed, hatred, ego and criticism. He beautifully quotes Mother Theresa here, who said: "If you only judge people, you have no time to love them".
After poignantly explaining the beauty of life and the personal approaches one should adopt during times of happiness and sufferings, joy and grief, pleasure and pain, prosperity and adversity, he concludes this excellent book with a chapter on the New World Order.
Though the new world order points to a crisis of integration, a crisis of religious misunderstandings and breakdown of all traditional values, rise of fundamentalism, fanaticism, militancy, catastrophic disasters, nuclear proliferation, etc., he says, still there is hope and vision as long as the new call is not for war but for peace.
Learning About Life, by Dr. Christopher Thomas, exhorts us to learn abundantly and share our knowledge and experience for future generations; to pay our part to our best capabilities, to live our life to the hilt and finally bid adieu to the world generously, when the curtain on our life is drawn. This is, certainly the book young and old must certainly read and comprehend to improve their lives.
Learning About Life is a recommended must for your home and office library as a reference book of applied philosophical and psychological study of ordinary human life aimed to enrich the present and the future generations with genuine thoughts of wisdom and sensible life experiences.
The very apt Foreword for Learning About Life is written by Ian Harrison, Management Consultant, Wales – United Kingdom.
Available in bookstores all over India and Abroad. You may also obtain your autographed personal copies from the author directly.