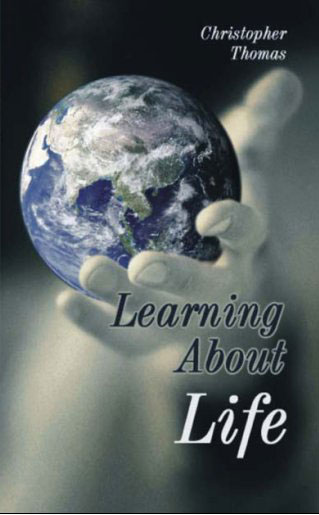 Authored by Prof. Dr. Christopher Thomas PhD
English
ISBN : 81 7662 298 2 – Hard copy Indian Edition
ISBN : 9781476155234 – E-Book International Edition
Foreword by: Ian Harrison, Wales – U.K.
Download E-Book Indian Edition
Download E-Book International Edition FREE
Order a signed copy direct from author
WHAT THE AUTHOR SAYS
The Author says that life is like a piano; you should be careful how you play it. This is a book that offers you grains of wisdom, reminds you about the do's and don'ts and tell you to mind your p's and q's and assures you that you can be on the road to success in life if you mind some important aspects of life.
The book "Learning About Life" takes you for a journey to discovery of a truly promising and worthy life although en route on the journey you may find yourself running into stumbling blocks like greed, hatred, ignorance, etc but armed with courage, discipline, honesty, hope and dreams, you surely end your journey successfully. It also reminds you when and where you have to keep your seat belts on because of unseen bumps around the corners.
The Author points out that as long as you have a life here on this earth to live, first of all, Have a Clear Mind and Have the Urge to Win in Life". He lists out and explicate on seventy-four most usual aspects helping us to achieve a Rich and Successful Life as also some fourteen common factors resulting to Failure in Life, in addition to explaining on Major Driving Forces of human life such as aspirations, instincts and how they are correlated to your Personal Approaches and Choices. You have all necessary ingredients enumerated in this book to tune up your life for the better. He ends up the book with a chapter on the New World Order.
SYNOPSIS
Learning About Life is fascinating in-depth look into why we live in this world, what we are, and how we should be. It is structured in a way that it is easy to read with continuity, easy to refer to, and most of all, easy to comprehend and apply in our ordinary lives. The author says; one has to live this life successfully and win it in order to be a fine example for our future generations, for progressive continuation of entire humanity.
Dr. Christopher Thomas begins with a strong emphasis that our life here is to live fully, not to squander or waste. One has to live a more satisfying, more enjoyable life on the face of this world, here and now and not to wait until death. To accomplish such sort of a life, he gives certain tips on how to have a clear mind, on how to have an urge to win in life and on how to perfect in what we do, and so on. Our life is in our hands, we can steer it anyway we wish, either make it or break it.
After poignantly explaining the beauty of life and the personal approaches one should adopt during times of happiness and sufferings, joy and grief, pleasure and pain, prosperity and adversity, he concludes this excellent book with a chapter on the New World Order.
Learning About Life is a recommended must for your home and office library as a reference book of applied philosophical and psychological study of ordinary human life aimed to enrich the present and the future generations with genuine thoughts of wisdom and sensible life experiences.
The very apt Foreword for Learning About Life is written by Ian Harrison, Management Consultant, Wales – United Kingdom.
You may obtain your autographed personal copies from the author directly.