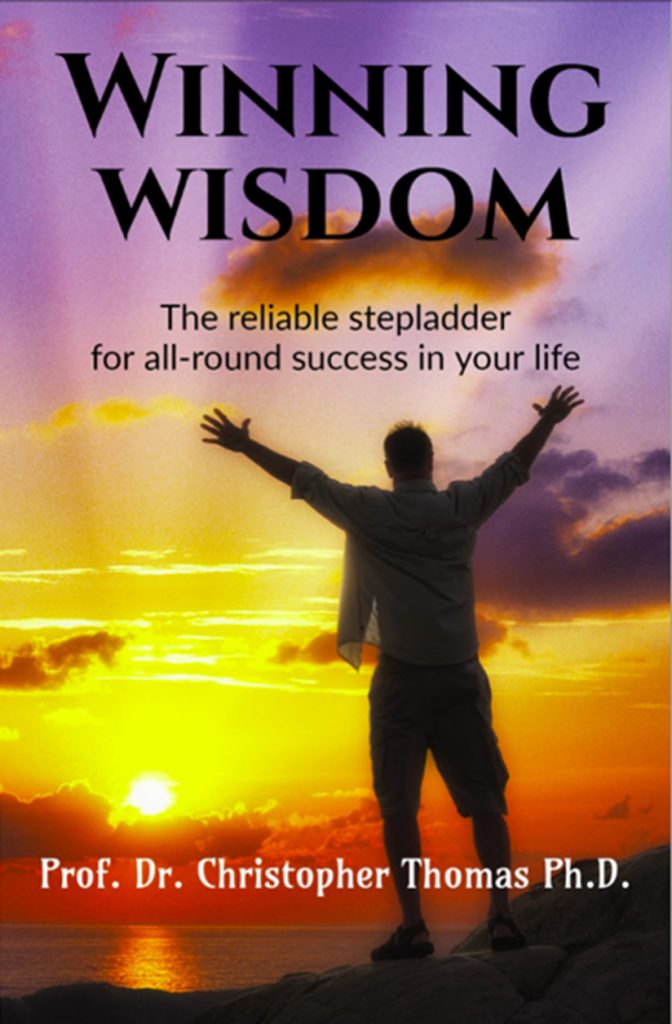 Authored by Prof. Dr. Christopher Thomas PhD
English
ISBN : 978-93-80151-45-8 – Hard Copy Indian Edition
ISBN : 1453745998 – Hard Copy International Edition
ISBN : 9781476449135 – E-Book International Edition
ISBN : 9781636332666 – Hard Copy Indian Edition (2020)
Foreword by: Prof. Dr. John M Toothman, U.S.A

Buy Book International Edition
Buy Book Indian Edition (2020)
Download E-Book Indian Edition
Download E-Book International Edition FREE
Get your autographed copy direct from author (In India only)
WHAT THE AUTHOR SAYS
This book will serve as an intellectual stepladder for all-round success in your life.
Life is an indefinite journey where knowledge and thoughtfulness are crucial at every step to overcome the many hurdles and uphill tasks that one may encounter on the way. To ensure success in every sphere at every stage in our journey through life and win it at its best, we got to be conscious of all possible ambiguities ahead and attain essential skills to overcome any eventualities. Unless we are triumphant in life, and let our lives be fine example for future generations, we would not have done justice to our own existence or contributed to the progress of humanity by any measure.
It is due to lack of knowledge or for misapprehensions by and large one end up in failures. Some are fortunate enough to get well-timed guidance and support from their parents or guardians or teachers or from such dependable sources in their early life and help leading a successful life later. But at an average, it is not the case for many. I considered this aspect a serious challenge and therefore my part of responsibility as well to the extent possible to help in providing some insights in this direction to my readers, especially the younger ones, so that they are not likely to have left behind at the bottom of the ladder of success for want of advice.
To be successful in life is everyone's ambition and a requisite. Our earlier knowledge of causative factors for success and failure in life will surely help design our existence the way we want it to be. Indeed, this is because of the basic fact that it is our own thoughts and actions determining the course of our life. By identifying and recognizing such factors – positive or negative influencing the course of our lives – we can certainly decide on our future strategies and take care to craft a happier world for ourselves than being left out in a world of misery. Therefore, let us go ahead and explore our hearts honestly, look deeper within us and thus by improving it further, enter into a world of greater wisdom.
SYNOPSIS
Life is like a piano, be careful how you play it. A book that offers you grains of wisdom, reminds you about the dos and don'ts, tells you to mind your p's and q's and sure enough, you are on the road to a winning life.
As the pages turn, you begin your journey to discovery, en-route running into stumbling blocks like anger, greed, hatred, ignorance, etc. But armed with discipline, honesty, hope and dreams, the drive is a smooth one, though you must remember to keep your seat belts on, because unseen bumps are always around the corner. This book is sure to:
· Enhance your knowledge on the intricacies of life,
· Reassure your life becoming more successful,
· Further your background knowledge,
· Learn as to why people act and react the way they do,
· Avoid failures in life of any magnitude at any particular point,
· Know why we conclude our beliefs right and others' wrong,
· Create a better base for making life's many and awkward decisions,
· Find a way to prioritize our own actions and aspirations, and
· Look deeper into a more meaningful life.