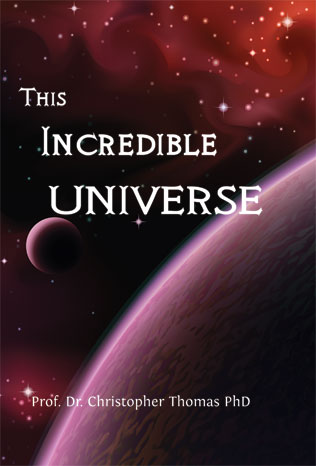 A subjective Portrayal of Universal Specifics, Astronomical Extravaganzas, Origin of Life on Earth and Civilizations
Authored by Prof. Dr. Christopher Thomas PhD
English
ISBN: 978-93-80151-70-0 – Hard Copy Indian Edition
ISBN: 1456410989 – Hard Copy International Edition
ISBN: 9781476143989 – E-Book International Edition
Foreword by: Prof. Dr. Sandra Hurlong, PhD
Opeinde, The Netherlands
Download E-Book Indian Edition
Download E-Book International Edition FREE
Get your autographed copy direct from author (In India only)
WHAT THE AUTHOR SAYS
Origin of this Universe and the world in which we live as part of it is probably the most fascinating but not wholly explained puzzle of all times and for this reason it is still a subject that is highly mysterious and equally motivating for all human beings to explore and learn further on all its intricacies.
This book is intended to provide basic knowledge of Space and Time in its few specified areas and not for reference purposes as most of its subject matters do constantly vary, when another new theory introduced or old one shunned.
This work should enable my younger generation readers to understand some fundamental truths in a world where many myths and irrelevant superstitions are widely practiced and taught even today by people with vested interests, be it religious or social or whatever. This book should help to get acquainted with the mysteries of our Universe, for a start, of which we are undoubtedly minute but important part. Cosmic Science is always a thrill, and the thrill intensifies as we get to know more and more secrets of the Universe unveiled before us. And if we dare to think about the end of this mighty creation, that is its climax!
SYNOPSIS

This book deals with the mysteriously fascinating but unsolved puzzles of all times for all human beings including the intricacies of our wonderful universe. Even though our knowledge about Space and Time is very limited at this stage, man embarked on to discover its secrets and explore it further and further arriving at some amount of scientific conclusions so far and still continue earnestly in different ways using different means for the right answers for all his questions.
As we turn the pages, it peeps into the probabilities of origin and destiny of our world, the solar system and its wonders, known theories about life's origin in this world as well as man's quest to find life elsewhere in the universe, the beginnings of human kinds, human civilizations of the past, and end up with the riddle whether this world will survive or end on its own by going in accordance of the views from different angles such as religious, scientific and ecological interpretations.